Fishing in Alaska: Tips for Success
Fishing in Alaska is one of the favorite things to do while vacationing in the "Last Frontier." Most everyone who loves to fish puts fishing in Alaska on their bucket list. There is just something magical about dragging in that sockeye salmon from a crystal clear backcountry river. Or watching an arctic grayling rise to grab a fly as it floats downstream across the top of the water.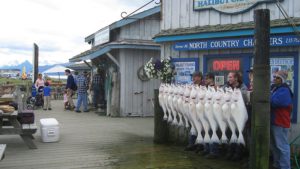 There are a lot of options when it comes to fishing on your Alaskan vacation. How much you want to spend will determine thetype of fishing experience you get. It will also determine how much gear and logistics you'll be responsible for. You may choose to go all out on a Halibut excursion in the Kenai Fjords or you may just want to enjoy an afternoon on Ship Creek in downtown Anchorage alongside a couple dozen other afternoon anglers.
Whichever route you choose to take, fishing in Alaska is one of the best vacation activities you could choose to help make  your Alaska vacation an epic adventure. On these trips you can expect to be fishing for a huge variety of fish depending on the season and lcoation. Halibut and King Salmon are the two most popular options for these trips. The various Salmon species are another popular option, but the possiblities are endless. If you have a particular species you would like to go after, it is necessary to plan your trip based on the time of year that fish is in season.
Below are three ways you can experience fishing in Alaska. They are listed in order of expected cost with the first being most expensive, but requiring the least amount of gear and planning. The last one on the list can involve the costs of gear and license.
All-Inclusive Guided Fishing in Alaska
All inclusive guided fishing is the most costly of fising in Alaska. The advantage to this type of fishing is that your biggest worry is how to get to the lodge. Once you arrive on the property, everything you need is provided. You are also most likely to catch the best fish with the guided fishing tours.
These guided tours can include a fly-in, boat-in or both. This can be an added sightseeing feature to these Alaska fishing excursions. The guides are experienced fisherman and always seem to know where to find the fish and how to get them on your line.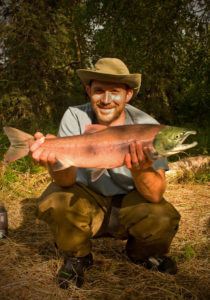 These are particularly good options for those who want to catch the "big ones" and are willing to pay for the experience. All-Inclusive guided trips include overnight or multi-day stays at a fishing lodge. You can choose the length of your stay and the details of your fishing excursions.
What's So Great About Fly-In Trips?
Fly-in trips could take you deep into the bush of Alaska and allow you the opportunity to fish in remote mountain streams. My favorite destination is in and around Lake Clark National Park. You can fly into a little village called Port Alsworth and then boat across Lake Clark and fish one of the many rivers around the lake.
This option is best for those who want fishing to be the primary reason for visiting Alaska. These trips could take up most of your Alaska vacation, so if you want experience a lot of variety on your trip, this is probably not for you.
All inclusive guided fishing trips in Alaska take care of all the gear and leg work for you and allow you to focus on what you have gone to Alaska to do. Multi-day trips range from $1500 to $5,000 per person. Most of these multi-day services provide three good meals per day and take care of all your licensing, tags and other paperwork required for the trip.
Half to Full-Day Fishing Charters in Alaska
A more affordable, yet still simple option for an adventurous Alaska fishing excursion, is a half or full-day charter or guided trip.These trips can be found in all of the port cities of Alaska, such as Seward, Homer, Valdez, Whittier and just about any other city along the coast. Interior excursions are also available and can include fly-ins on float planes to remote rivers and lakes. The most affordable lie along the coastal cities where many guide services are competing for your business.
These day trips are also very convenient for the Alaska vacationer. The boat ride is also an bonus for sightseeing opportunities along the Alaskan coast. Fly-ins give you a ride through the mountains in the interior of Alaska. If you are lucky enough to get a great guide, you may even get some added sights along the way. Some of these trips can include wildlife viewing, which is out of this world along the Alaskan coast.
This is a great option for the angler who wants a quick, easy and exciting day of fishing in Alaska. It is also the best option for those who want fishing to be only a part of their Alaska experience.
Half to Full-Day Fishing Charters are the most popular of these three options. All licensing, gear, transportation, and bait are included in the cost of the excursion. The day trip options range in price from $299 up to $2,000.
Self-Guided Fishing in Alaska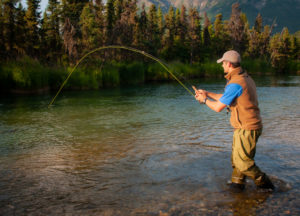 This option is the most cost effective, yet requires the most work for the vacationer. The biggest advantage for this option is that you have the freedom to do what you want to do. The disadvantage is that you probably don't have an accessible boat or float plane while you are on an Alaska vacation! However, if you just want the joy of saying you fished in Alaska, this may be the best option. It is definitely the most affordable.
Self-guided fishing can happen most anywhere in Alaska. There are streams and lakes with public access all over the state. You can even fish right the in the downtown area of Alaska's only larger city.
Great Places for Self-Guided Trips
Ship Creek runs right through the middle of Anchorage and actually offers good fishing opportunities at the right time of year. The disadvantage is that you may be shoulder-to-shoulder with a whole bunch of other anglers just wanting some afternoon fun.
The Kenai River is one of the most accessible and productive wading rivers in Alaska and runs from the Kenai Lake to the Cook Inlet. The Kenai runs through the cities of Sterling, Soldotna and Kenai, provided anglers with many opportunities to be alone on a relatively remote Alaskan river.
Most of the larger cities in Alaska offer companies who rent fishing gear. Anchorage has many of these companies and they even offer packages of everything you will need to experience Alaska fishing for a day or a month. Renting your items provides the vacationer with the convenience of avoiding taking fishing gear on airlines. It also avoids  keeping up with it before and after the fishing experience.
Challenges to Self-Guided Freshwater Fishing Trips in Alaska
You will be responsible for attaining your fishing license. Purchase is based on how long you will be fishing and what type of fish you will be chasing. Click here to find out more about Alaska fishing laws. I always purchase my license before arriving in Alaska. That way I avoid having to figure it out on the fly. Be very careful to understand daily and annual limits for the fish you will be catching. Certain species of fish require a tag to be purchased.
This type of fishing in Alaska is best for those who are interested in having the freedom to fish where and how long you wish. It requires some forethought and legwork. I prefer this type of Alaska fishing for the freedom it offers. The less experienced angler may want to choose one of the other options. You can expect to spend $50-$200 by self-guiding your fishing in Alaska.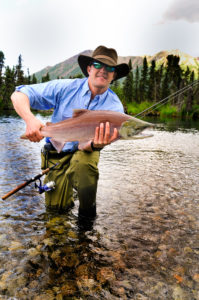 Ten Great Fishing Destinations in Alaska
Alaska has thousands of options for fishing while you are on vacation. Here are a short list of my favorite destinations.
Seward
Homer
Juneau
Kenai/Soldotna
Whittier
Valdez
Juneau
Bristol Bay
Ketchikan
Cooper Landing
Make Fishing Part of Your Alaska Vacation
These are several options for you choose for your Alaska vacation. Don't miss out on the opportunity of a lifetime to fish in one of the most dreamed about fishing destinations in the world! Spend a little extra and make it easy or go to the extra effort to guide yourself. Either way, you will experience some of the most scenic rivers and lakes you will ever find. You will never regret the extra money or effort you spent to fish Alaska!