Kenai Fjords Tour – Alaskan Sea Life Up Close
..Until my first Kenai Fjords tour, my Alaska dreams included mountain summits and salmon fishing, kodiak bears and massive bull moose. I would imagine a backcountry hike and canoeing a glassy lake in the forest. It wasn't until I first traveled to Seward, Alaska on the Kenai Peninsula and inside the Kenai Fjords National Park that my paradigm of Alaska included great horned puffins and stellar sea lions, humpback whales and the velvety sea otter.
A Whole New World
I took my first trip to Alaska in 1996.  I followed it up with a month long visit with my new wife in the summer of 2000. That first time we took a boat tour of the Kenai Fjords and Resurrection Bay was unforgettable. It felt like I was in another world and the wildlife sightings felt like a dream. Puffins, sea lions, seals, sea otters and several other exotic animals spotted the waterways of Resurrection Bay. Even though we didn't find the sought after killer whale, the tour was more than I could have imagined.
Sixteen years later, on a trip with my two oldest children (Grace 13 and Gabe 10), we once again booked a trip with Major Marine Tours, and we were not disappointed. After our amazing Salmon and Alaskan Crab lunch, we loaded up the boat and headed back to Seward. As we pulled up to the seawall of Cape Resurrection, we were blown away by the number of puffins and other sea birds bouncing off the rock walls. My daughter and I were standing on the lower deck looking off the side of the boat and just about eight feet below us, the water began to roll. As quickly as we could process what was happening, a huge humpback whale rolled right into the side of the boat. Spectacular!
Kenai Fjords Tour Highlights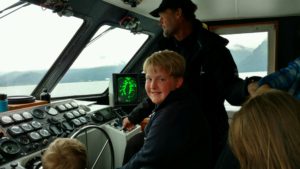 My favorite feature of both of my Major Marine Kanai Fjords Tour was the national park ranger that accompanied our journey to Resurreciton Bay. Our kids loved the Ranger program and the educational value of the trip skyrocketed with the Ranger on board. I'll never forget my kids stroking the pelt of the Sea Otter and being amazed by the softness of the fur. And then the captain invited my youngest boy to the helm and let him captain the boat for a couple minutes. This tour was one of the most kid friendly experiences I've ever had on an Alaskan tour or experience.
If you are near Anchorage or the Kenai Peninsula on your Alaskan vacation, do not miss the Kenai Fjords Tour in Seward.
---
Description: A boat tour of the Kenai Fjords and Resurrection Bay. Also offerd is a Prince William Sound Tour. You will observe wildlife which may include sea otters, puffins, whales, sea lions, harbor seals, bald eagles and many other potential sightings. Most tours include a full meal with optional upgrades.
Tour Options: Major Marine offers many tour options in Kenai Fjords National Park and Prince William Sound. They generally range from 3-5 hours, but longer tours are available.
Physical Requirements: This tour requires no particular physical abilities and is handicapped accessible. If your are prone to motion sickness you may want to prepare with the appropriate medication.
Length: Various tours generally ranging from 3-8.5 hours.
Food: Most tours include a full meal with upgrades available.
Cost: Adult prices range from $84-224 and child tickets from $44-224
---
Features
A Major Marine Kenai Fjords Tour includes comfortable boats with seating and tables. There is plenty of room to walk on the upper and lower decks And it's easy to get spectacular views of the Alaskan Sea Life and landscape. A national park ranger will be aboard the ship to interpret the amazing Alaskan nature experience. The ranger generally facilitates a Jr. Ranger kids program to keep the children busy. You will see amazing Alaskan wildlife on this tour.
Weather
This weather excerpt was taken from the National Park Service website:
The weather at Kenai Fjords is difficult to predict and can change rapidly. The area generally enjoys a relatively temperate maritime climate, primarily due to the influence of the Japanese current that flows through the Gulf of Alaska.
Summer daytime temperatures range from the mid 40s to the low 70s (Fahrenheit). Overcast and cool rainy days are frequent. It is not unusual to get several long periods of continuous rain in the summer months, but we do have some glorious sunny days as well. Snow often remains in the higher elevations through June or July.
Good rain gear and a warm water-resistant jacket will make your trip more comfortable.
Departure Times
You will be given an assigned departure time for the tour when you book your trip. Expect to arrive about 30 minutes before your departure. There are plenty of things to do as you wait for your call. There is a wonderful gift shop full of great souvenirs and educational material. You can also stroll along the Seward harbor and enjoy watching the fisherman haul in their catch. You can watch them cleaning the fish and enjoy observing the seabirds waiting patiently for the leftovers. A very popular photo opp in Seward is to get a picture of the large halibut and salmon catches hanging on the hooks just in front of the harbor. There are plenty of ice cream and coffee shops as well.
How to Book
If you are interested in booking this awesome Kenai Fjords Tour, check out Major Marine Tours in Seward.
A Tour You Don't Want to Miss!
Just like with any tourist destination, there are hundreds of opportunities to spend a lot of money and not get the lifetime memories that make your vacation an epic adventure. Although this is a very busy tourist excursion, you will not be disappointed in your excursion. This is very high on my list of must do's on your trip to the Anchorage or Kenai Peninsula area. Make sure to take a good camera and keep that battery charged and memory cards on hand.
You will not regret this trip!