What should I do in Alaska? Recommendations for a Friend.
.I was contacted this morning on Facebook by a friend of a friend who is on her way to Alaska. I am always excited to hear about someone visiting the most beautiful place in the world (in my humble opinion). Two couples will be en-route to drive the interior interstate system of the "Last Frontier." I am certain they will have a trip they will remember for the rest of their lives. They had planned out their basic route and filled in a few activities. Then they were interested in my suggestions for things to do in Alaska.
The route they have chosen is the most obvious choice and the safest and most maintained road system in Alaska. The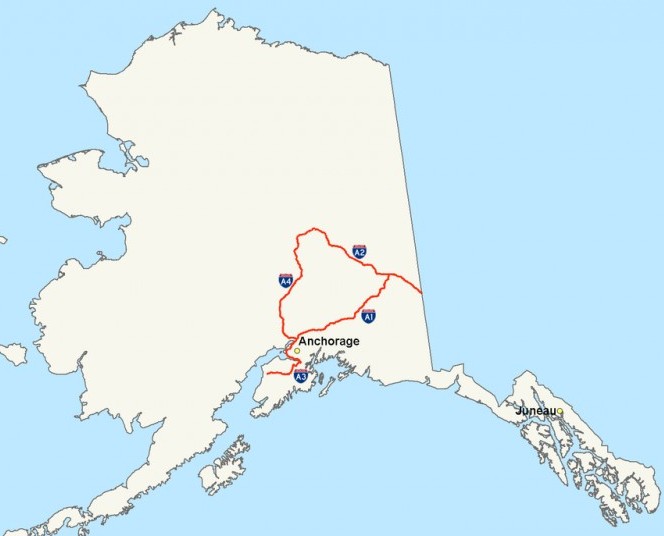 Alaska interstate system conveniently makes a triangle shaped drive throughout the interior of the state. That triangle hits beautiful mountain ranges, vast fields of wildflowers and opportunities to see lots of wildlife.
To the right you will see what the interstate system of Alaska looks like. Yes! it is quite comical. Of course their are some other roads in Alaska, but this is pretty much the way to get around interior Alaska. Consequently, it makes a pretty good trip for the casual Alaskan visitor who doesn't wish to spend a lot of time or money getting off the beaten path and beyond the primary road system of the state.
The Big Three Highways in Alaska
The big three highways forming the interior triangle are Highway A1 (the Glenn Highway), A3 (the Parks Highway), and A2/A4 (the Alaska and Richardson Highway). These three roads provide the Alaska vacationer who wants to drive the state a very accessible and enjoyable few days worth of adventure.
If you are flying in and would prefer the most accessible airport and amenities, it is wise to fly into Anchorage and travel clockwise or counter-clockwise along the triangle. This will allow you to see a lot of sights, cities, peaks and parks along the way. You will travel through Anchorage, Wasilla, Talkeetna, Denali National Park, Fairbanks, North Pole, Delta Junction, Glennallen, Copper Center, Palmer and back to Anchorage.
A spectacular additional drive would be south down the Seward Hwy (highway 1) to either Homer to the west or Seward to the East. Homer would take you along the beautiful Kenai River and Seward will provide breathtaking views of Exit Glacier and some most amazing Alaskan sea life.
One Man's Suggestions for a Fun Alaskan Vacation
As I get into my suggestions along the Big 3, I will stress that these are certainly not the only activities to enjoy. There are tons of great things to do in Alaska apart from the ones listed here. These just happen to be some of my favorite activities. This article just offers one perspective for the Alaska vacationer.
This agenda is based on the basic plan given to me by my friend of a friend. Here is their skeleton outline.
August 22: Fly into Anchorage and Spend the Night
August 23: Drive and Stay at Denali

August 24: Spend the Day at Denali

August 25: Drive and Stay in Fairbanks

August 26: Spend the Day in Fairbanks

August 27: Drive and Stay in Copper Center

August 28: Drive to Valdez (I will suggest an alternative to this drive)

August 29: Drive and Stay in Seward

August 30: Spend the Day in Seward (fishing trip for the guys)

August 31: Drive to Anchorage

September 1: Spend the Day in Anchorage

September 2: Fly out of Anchorage
Based on this skeleton schedule I will create a suggested agenda based on my experiences in Alaska. I will not suggest hotels or campgrounds since this group has already determined those. My goal is to focus on activities that will make their trip more fun. My goal on this site is always to try to strike a balance between cost and adventure, so my suggestions may not be the most spectacular options, but the ones that can make Alaska amazing without breaking the bank. From here on out, the article is addressing this traveling group personally and will be written as a letter to the group. This will give you an inside look at how I would consult these special folks on their trip.
Anchorage to Fairbanks on the Parks Highway
Maybe a Bite to Eat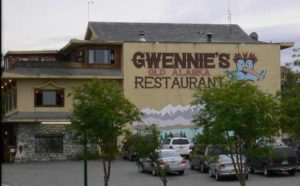 Since you (the traveling group) have already determined where you will stay on the first night and the destination for day 2, I simply want to tell you what to expect. Your hosts may have breakfast plans, but if not, I would highly suggest Gwennie's Old Alaska Restaurant (I wrote about it here). Gwennie's is the perfect spot to get a feel for how the locals experience life in the "Last Frontier." Big burly men in overalls and women gossiping about their little corner of the world are dotted throughout the dining room. It's a good opportunity to try some Alaskan vittles. Before leaving the great state, you must try reindeer sausage. Gwennie's has some of the best! Enjoy the Alaskan animal mounts as you stuff down those huge portions. Don't forget to come hungry!
First Opportunity at Wildlife and Wildflowers
As you depart Gwennie's and make your way to the Parks Highway you will begin to see the traffic thin and the landscape become more beautiful. Heading northeast on Alaska Hwy 1 nearing the Parks highway intersection you will enjoy seeing the Knik Arm, one of the two branches of water that flow out of the Gulf of Alaska and Cook Inlet Eastward into the interior of the Anchorage area. Look for moose in the very large swampy meadows along the Knik. Also keep your eye out for some late blooming spectacular Alaskan wild iris. You'll probably be too late to see the full fields of purple, but you will see lots of other amazing wildlflowers around the Knik Arm.
A Quick Stop at the Iditarod Museum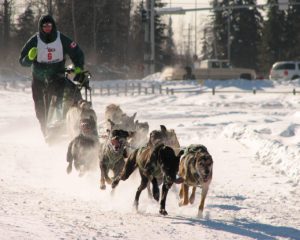 Rounding to the north and west past the arm you will catch the George Parks highway and be well on your way to "the Great One." As you pass through the town of Wasilla (home of course to Sarah Palin herself), you may want to stop for an hour or so at the Iditarod Headquarters and Museum. It's a lot of fun and you can see working dogs and actually take a dog sled ride for just a few dollars. Also see the trophies, memorabilia and watch some videos of some of the greatest Iditarod champions like the Seavy Brothers.
After leaving the Iditarod Headquarters, this is a great opportunty to make your last stop at a Wal-Mart before leaving civilization and headed toward the 6 million acre Denali National Park. Stop in for final supplies and then hop over to Little Miller's Ice Cream Shop to get a treat for the road. You can also see the family's country store just a few dozen miles north in Houston as you drive. It is a wonderful small family-owned ice cream shop that Wasilla locals frequent often, especially in the summer. You will also get a kick as you pass by Lake Wasilla and see the kids swimming in water that you'd probably wet your britches in if you took the plunge! Wasilla is also a good chance to take your first peek at the Alaska Railroad passenger train.
On the Road Again
As you hop back in the RV and hit the road, you'll pass through the small town Alaska neighborhoods of Big Lake and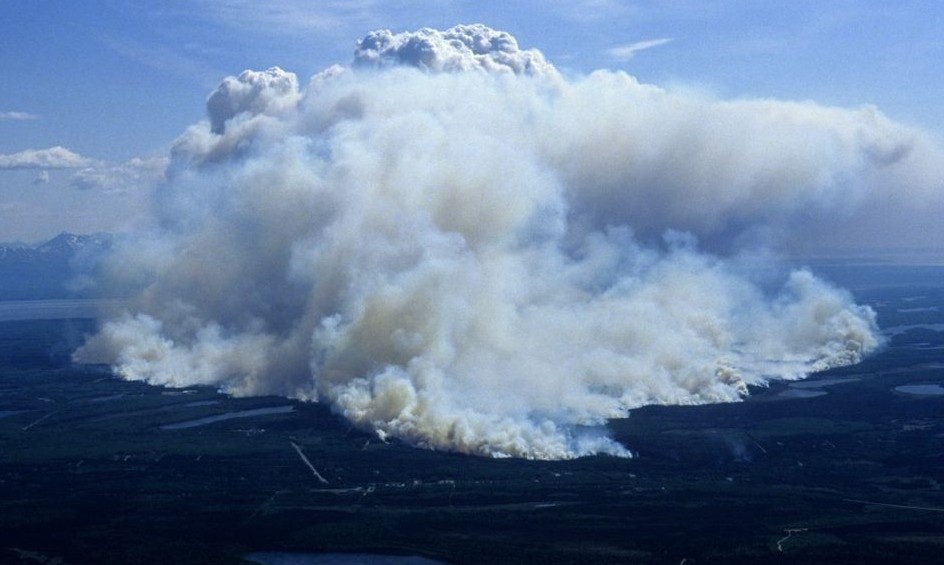 Houston. Houston made national news in 1996 with the huge Miller's Reach forest fires that destroyed a big part of the forestland there. Wikipedia states, "The fire burned over 37,000 acres (15,000 ha), destroyed at least 344 structures, and caused more than $10 million in damage to structures and property. The fire was at the time the most destructive in Alaska history, consuming more structures than all other fires in Alaskan history combined."  Houston is also home to Miller's Market that I mentioned earlier in this article.
Talkeetna:  Lots to See and Do
Continue northward through Willow and then take a bit to rest in Talkeetna. There are some great tourist activities in this rustic and quaint little village. Lots of shops, bike rentals and fun restaurants and food trucks will keep you occupied for a little while. The Denali Brew Pub is a great place to grab lunch if your are planning on eating out.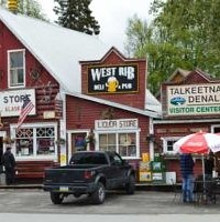 Talkeetna is the jump off point for the daring and brave souls who are climbing "The Great One," formerly known as Mt. McKinley, and now Denali, at 20,310 feet. Denali is the highest mountain peek in North America and the 3rd highest in the world. There are a few great places to see Denali along this stretch of road, if the weather is right. However, note that only one out of every three visitors to the area get to see the entire mountain due to it's independent weather system.
One of the best spots to see the Great One, according to Alaska.org, "is about 13 miles down the Talkeetna Spur Road just across from the entrance to the Talkeetna Alaskan Lodge. There's a pull-out on the left. You'll get great views with the Susitna River and foothills in the foreground.  The peaks in the foreground are 3,000–4,000 feet high, roughly the vertical gain of most ski resorts in the American West. And behind them looms Denali, five times as high!"
Good luck in your quest to see the spectacular peek! Flight-seeing tours can be booked from the little town of Talkeetna, but it will require a few hours and you may not have time to take a break from travels.
After you leave Talkeetna you are almost to your first overnight destination: Denali National Park and it's 6-million gorgeous acres of wilderness and wildlife.
Denali National Park Activities
You will have a blast at the campground! There are lots of small critters and fun people to keep you busy while you roast marshmallows on the fire pit and enjoy your first night in the RV in the wilderness of Alaska.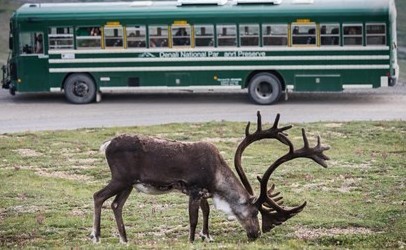 When you drive into the park the next morning, everything you need to know can be found in the Park Visitor Center. I always recommend purchasing the National Park Service Passport if you don't already have it (save time and get it in advance here). Each national park or national monument has a stamp that you can stamp in your book. My kids and I love collecting the stamps from around the country and this may be your last opportunity to get the ones from Denali!
At the Park Visitor's Center you will find many options for your visit for the day. There are three bus ride options. These trips are a hop-off hop-on ride. Anyone would be unwise to PROMISE you'll see tons of wildlife, but I would bet my biscuit on it! We saw 23 brown bear one year, both adults and cubs, on one trip in! We were also very fortunate to see one of Denali's 51 wolves. Many other Alaskan animals can be viewed from the bus window.
You can choose one of several tours lasting up to 8 hours. The freindly park rangers will help you decide which is best for you and will explain what you can expect from your tour.
Denali to Fairbanks
Day four and five of your agenda leads you to Fairbanks, Alaska. Fairbanks is the city of extremes with it's record long days and nights Fairbanks sees up to 22 hours of daylight in the summer and just almost as much darkness in the winter. The extreme temperature swings reach -62 in the winter and +80 in the summer. The population of Fairbanks are strong souls ranging from college students at the University of Alaska at Fairbanks to military personnel at Eielson Air Force Base. Fairbanks is quite a unique place to visit.
You can't hang out in Fairbanks very long without eating at the World Famous Great Alaskan Salmon Bake.  Burly men in big beards prepare your fresh Salmon or Steak on the outdoor grill for casual dining picnic style! The Alaskan Salmon Bake has been operating in the beautiful Pioneer Park in downtown Fairbanks for 40 years!
Moose spotting and other wildlife encounters occur at the Chena River State Recreation Area. Tenderfoot Pottery is a fun visit to see some local Alaskans hard at work with their craft. Do some shopping in their retail shop and watch them work.
Take a little break while in Fairbanks! You'll need it after you hard last few days driving and hiking.
Fairbanks to Copper Center on the Richardson Highway
From Fairbanks you'll leave on day 6 to head off to Copper Center, Alaska. On your way out of town, do not miss North Pole! My all-time favorite moose sighting occurred in a little creek on the side of the road in an RV park in North Pole. I saw a moose from a distance eating in the middle of the creek. He would dip his head to the bottom and pull up a big pile of grass from the base of the river. Every time he'd put his head down, I would move in a little closer. I got about 15 feet from that joker. Hiding behind a tree, I was relieved when he finally turned and slowly swaggered away!
Please do not behave with such foolishness on your trip (wink)! Moose are very dangerous and are more likely to charge and trample you than a bear would be to maul you. Do not approach moose. I was young and stupid!
Santa's Workshop at North Pole Alaska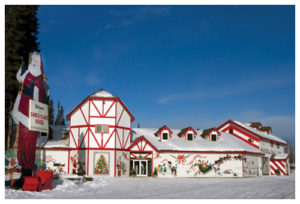 Visit Santa's workshop in North Pole and enjoy your Christmas decor shopping experience. You can, of course, even take a picture on Santa's lap to take with you for a reminder of your awesome visit to the North Pole. Make sure to take a picture of the group and the couples at the north pole sign, it's one of my all-time favorite snap shots of my wife and me. Oh, and I almost forgot, I also love my picture of the First Baptist Church of North Pole! There really is a First Baptist almost everywhere in the world!!
Leaving North Pole, you will most likely travel south on either the Richardson Highway. The Richardson Highway was Alaska's first road and was hard-topped in 1957!
There are several great photo opps along this highway. Make sure to stop at the termination point of the Alaska highway at Delta Junction at mile marker 96 from Fairbanks. Also, take a picture with the Alaska Pipeline at the crossing of the Highway at mile marker 118.5 from Fairbanks.
Copper Center Alaska and the Wrangell-St. Elias Mountain Range
I remember my first drive to Alaska in 1996 cruising through the Canadian Rockies. After crossing the mountains and driving toward our destination of the "Last Frontier," we were anxious and excited to see our first glimpse of the mountains of Alaska. I was riding in the passenger seat and I remember looking up to see this little white gem on the horizon and saying to my best buddy, "Oh look, a little mountain over there, maybe that's Alaska."
As we drove farther west, the little gem started to get bigger… and bigger, and bigger, and bigger! After an hour or more I realized that that little gem on the horizon was much more than a "little gem," it was a monstrosity of a mountain. I was blown away when we came to a 3-way stop butted right up against the base of that monster and then spent the next couple hours driving between the Wrangell and St. Elias Mountain Ranges to the south and the Kluane lake to our north! It was a life-changing experience!
The Wrangell-St. Elias National Park
The park is the largest of all the national parks in the US National Park Service at 13 million+ acres and could hold within it's borders 6 Yellowstones! Within the Wrangell and St. Elias Mountain Ranges 9 of the highest 16 peaks on US soil are found. The elevation change in the park goes from sea level all the way up to 19,551 feet at the peak of the 2nd highest mountain in North America, Mt. Logan. It is a sight to behold!
When you enter the park you will find the visitor's center and you can find out about all the great things to do by asking a Park Ranger for what will fit your group based on the amount of time you want to spend and the difficulty of the activiti
es. You will have a similar experience to what you encountered at Denali.
Copper Center to Anchorage
At this point in your jouney your are headed back to home base! You have made and excellent choice to tour the interior in RV/car. You will see so many sights in Alaska!
My Only Suggested Agenda Change
I don't want to do our friends down in Valdez a dis-service, I'm sure it's a WONDERFUL destination. Especially for those of us who remember the disastrous oil spill of March 1989. However, at this point I expect you are going to be exhausted of driving. You will need respite from the journey. I would suggest you shift your planned course to head west toward Anchorage.  You will get to see some of the sights of the Matanuska Valley.
Along the Glenn Highway you can find several beautiful places for group photos or short roadside hikes. You will most likely see some great wildlife and rushing rivers. And most importantly, you will have some time to visit the amazing and easily accessible Matanuska Glacier! It is a sight you do not want to miss and will probably be your one opportunity with this particular agenda to walk on a glacier, an experience I waited 20 years to do.
When you arrive at the Matanuska, which by the way is as out in the backwoods as a farmer on the back 40 of an Alabama plantation, you will start at the registration office/gift shop. The access to the glacier is a privately owned access road operated by the original owners of the property. You can purchase a guided tour of the glacier, or for $30 per person, create your own walking tour. I would recommend good boots (see my suggestion here)  and a rain jacket (see my suggestion here) for this trip. Trekking poles (see my suggestion here) are also a great piece of equipment to carry on the glacier!
I truly believe that, even if you have to change your agenda, this will be one of the highlights of your trip!
A Visit to the Valley: Mat-Su Experience
After leaving the glacier, I would suggest you spend some time in the town of Palmer, Alaska. This wil be your re-entry into civilization as Palmer is a decent sized town with lots of ammenities. You can restock and get some needed respite from the wilderness here.
If you have about 3 hours to spend, I would recommend a hike up the Bodenburg Butte. It is a moderately easy hike with some amazing views of the Matanuska Valley farmland. You will not find scenery like this anywhere else on your trip, and by this time, you are in good shape from harder hikes, so this one will be a breeze! It's truly worth the time and one of the most relaxing hikes you could take on this leg of the journey.
 Off to Seward: My Favorite Destination on Your Journey
The other reason I suggest you drive from Copper Center to Palmer is the drive you would be facing between Valdez and Seward. I would hate to see you miss a few stops along the Glenn Highway and the Seward Highway. Those stops make this drive my favorite journey in all my travels to Alaska! I totally adore the drive between Anchorage and Seward!
Once you get back through Anchorage and on your way along the Seward Highway, there will be lots of opportunities to stop and explore the roadside excursions if you would like, but there are three particular stops I would recommend. I wrote about them in another article (you can find it here), but I'll give a brief overview for the purposes of this article.
The Turnagain Arm
Once you are on the Seward Highway and start to see a lot of water to your right, you have reached the Turnagain (turn-again) Arm which is one of two arms stretching into the interior from Cook Inlet and the Gulf of Alaska. The Arm is such a wonderful little feature of this area. It attracts and a lot of wildlife and sea life and it's just plain gorgeous! There are a lot of viewing platforms and pullouts along this area, so give yourself a little extra time. In the high tides you can sometimes see Beluga Whales bouncing around in the arm. Also, if you look up the steep cliffs to your left, you can almost always spot little white dots up high. Or you may even have a closer encounter with the dall sheep and mountain goats grazing along the cliffs.
Also, check this schedule of the Alaska Bore Tide to see if you may be lucky enough to witness the natural phenomena. The changing of tides sometimes brings a series of waves as high as 5-6 feet tall into the Turnagian Arm. I've never been lucky enough to see the bore tide, but it is on my must see Alaskan bucket list. Here is the schedule!
Whittier Small Boat Harbor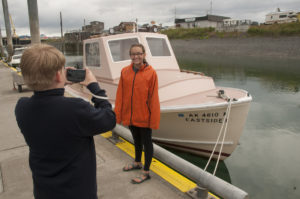 After passing by the Turnagain Arm, plan your next stop at Whittier. The highlight of Whittier is the 2.5 mile Anton Anderson Memorial Tunnel. The tunnel is a dual purpose one-lane tunnel used by both cars and trains. The tunnel travels in one direcition for 30 minutes and the other direciton the next 30 minutes. There is a $13 toll per car to travel the tunnel.
After reaching the "light at the end of the tunnel" (literally), you will find a beautiful little quaint village with a small boat harbor and a cruise ship dock. If the cruise ship is in, expect crowds and delays. There are several super cute little places to grab lunch or dinner at the harbor.
As you leave Whittier, make sure to stop in and peruse the Begich-Boggs Visitor Center on Portage Lake to get a good overview of the Portage Glacier Area!
On to Seward, Alaska
After leaving the Portage area, you are off to Seward. An optional stop either headed down or coming back would be the Alaska Wildlife Conservation Center. The Center is a drive/walk through animal park. It is dedicated to rehabilitation and conservation. It is your surefire shot to see Alaska wildlife (wink.) There is a $15 per person fee for the park, but it is worth the visit and a lot of fun to see the different Alaskan animals. They are also working on a huge project to repopulate the native Alaskan Wood Bison.
Take the chance to stop at some of the pull-offs along the Seward highway, especially those along the Kenai River. It is a beautiful and untouched area to explore.
A Seward Essential: Kenai Fjords Water Tour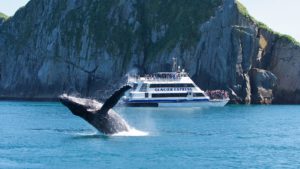 The Kenai Fjords and Resurreciton Bay Water Tour is a necessity for a Seward visit! I have been on three of these tours and each one has been an experience I will never forget. In 2016, my 2 oldest children and I had the opportunity to see an amazing humpback whale surface. It bumped the side of our boat just 8 feet below us. It was spectacular! The puffin, bald eagles, harbor seals, sea lions and river otters will leave you in awe.
I prefer the Major Marine tour because their company partners with the National Park Service They commit to have a park ranger on all their tours. I've always had a great time asking questions to the rangers. They also have friendly staff and the captains are generally a joy to interact with. Not to mention, the Salmon/Crab meal which you get as part of the tour is fabulous. There is an extra charge for the crab.
A Suggestion for the Ladies
You had mentioned that the guys had chartered a fishing trip and the ladies needed an adventure in Seward. I would definitely recommend one of Seward's mountain hikes. There are three hikes that pop in my mind: the Marathon Mountain hike, the Exit Glacier hike or the longer, but most spectacular Harding Icefield Trail.
These are all written about here and here. The Marathon Mountain trail affords you with the opportunity to see areas of the mountain where the Marathon Mountain Marathon takes place. You can see the race on each 4th of July. It will be a moderate hike for you.
If you are wanting to take on a more challenging, but more spectacular trail, try the Harding Icefiled Upper Trail. You can choose to stop at the mind-blowing overlook of the Exit Glacier at Marmot Meadows. Or, you can go all out and try to make it to the overlook of the Harding Icefields. It is an experience you will NEVER FORGET. It is a life-altering experience to look over a 300 square-mile 1500 feet-deep solid sheet of ice and snow! Really… it is!  I will say that it is not an easy hike. It will require a lot of hard work and a full day to make the 8.2, 3,500 foot elevation change hike. If you don't want to tackle this, the hike to Marmot Meadows is the next most beautiful site. There is also a great welcome center and gift shop to greet you at the trailhead.
Back to Anchorage and Home Again
That takes us back to Anchorage to spend the day and then catch the flight home.
Your day in Anchorage will probably include some shopping and dining. Downtown has great shuttles and lots to do to keep you busy. If you want to experience the most popular eatery in town, the Glacier Brewhouse is a great place to go. The crowds are large, so plan for the extra time. If you were unable to experience Gwennie's on your trip in, you may want to do that. Keep in mind it's a little off the beaten path from downtown. I don't even need to direct you to souvenir shops, as they litter the downtown streets.
What Should I Do In Alaska?
Well, I hope this was helpful for you as you prepare for your trip through the interior of Alaska!
No matter what you choose to do, you are going to make memories that will definitely last a lifetime.
Let me know if you have any questions. PLEASE come back here and comment on the things you liked most, whether it was in this post or not. I can't wait to hear about your trip!
Sincerely,
Kevin E Beasley