The Best Silicone Ring for Alaska Vacations
Groove Ring – The Best Silicone Ring for Alaska Vacations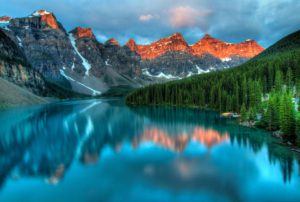 One item I would almost bet you would not think about on your upcoming Alaska vacation is your wedding ring or any other valuable ring you wear regularly.
One of the greatest fears I faced when I got married was losing my wedding ring. I had never been able to wear a ring for any amount of time without losing it. I lost my class ring about as soon as I got it in 11th grade. Believe it or not, I got a call almost a year later that someone at the summer camp I attended had found it. I had dropped it in the parking lot and somehow it laid there for almost a year!!!
I'm a little bit emotional and sentimental (my kids would say more than a little). I couldn't bear the thought of losing my original wedding ring.
My wife and I went on a honeymoon in Banff National Park, a beautiful little nook in the Canadian Rockies. It was the day before Canada Day and we were bouncing around on some mountainside overlooking this gorgeous lake. The hill was steep and I climbed to the top to get a good view. It was spectacular!
Instead of trying to climb down the side of the cliff, I slid down on my backside and as I did my wallet slid out of my back pocket. I didn't know it until that night when we arrived at our hotel and I tried to find the keycard wich was tucked away in my wallet along with every form of payment that crossed the border with us.
Nothing Left to Get Home
I found myself without anything! No ID, no money, no credit cards… please Lord, NO!  Yes.
Ironically the police department in Banff is closed on Canada Day and we were stuck in another country with no money to get gas to get back to Calgary, no ID for getting on the plane, and no way to take care of our hotel bill.
We met some special people over the next couple of days! The lady at the front desk loaned us some money ($100 I think!) to get back to Calgary and told us to just call when we arrived home to pay the bill!
We hopped in the car to head back to Calgary, dropped our car off at the rental station, and headed to the International terminal. When we were checking in at the ticket counter, I looked down at my left ring finger… you guessed it, it was gone! I remember looking with terror at Julie with wide open eyes and holding my finger up for her to see what had happened. She took charge and frantically started trying to track down the rental car company to ask them to see if it feel off in the car.
Nothing!
We flew all the way to Central Florida, drove to our house, started upacking our back, and you cannot imagine the relief when I found it fallen down in the bottom of one of our pieces of luggage! Turns out that fingers shrink in cold weather and my finger had become smaller than the ring. Arggghhh!
Along the way, we had also discovered that my wallet was a the Police station and was already en-route back to Florida by the time we got home. That was my poor wife's first adventure with her absent-minded, accident-prone husband. Poor girl!
The Problem with my Traditional Wedding Ring
In the years that followed, I lost that ring several times. Usually it would show up within a few days and all was well. Sometimes I wouldn't be able to find it for a month or more. But, the strangest ring experience was a few years ago when my finger started breaking out with a rash every time I put my ring on. I guess I had developoed some type of allergy to the material. And when I went into the furniture business, I kept on banging it or getting it caught on some item I was trying to move. I also noticed that when I would do outdoor activities my finger would clam up under the ring and sweat and was uncomfortable.
A Call From a Friend with an Idea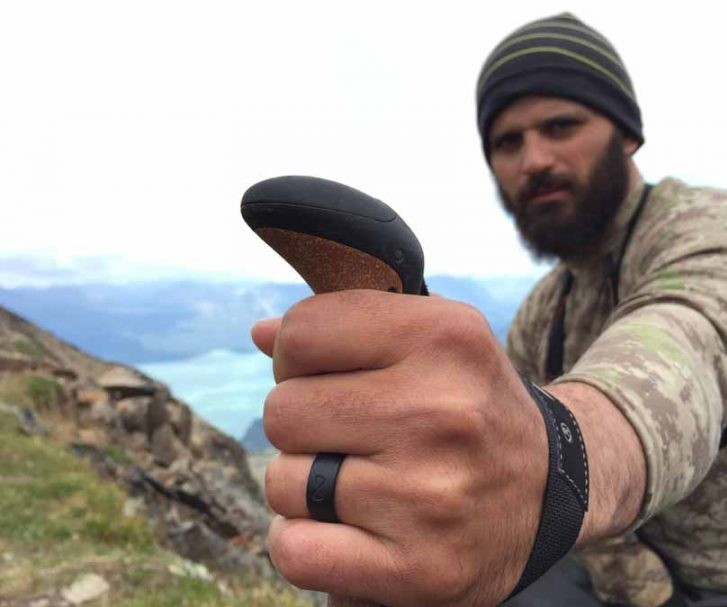 Late one night I got a call from one of my best buddies. He was super excited to tell me about a business idea had had and how he wanted to develop a company around this idea. Peter was a bear hunting guide and lodge owner in Alaska and had had similar problems to what I had experienced with my ring. Being an Alaska hunting guide is about as rugged as it gets for gear, so he had a great opportunity to test his idea.
The biggest complaint with the silicone rings that were on the market at the time was that they were sweaty, hot, and made your finger clammy. Peter discovered that the problem with these rings was less about the ring being hot and clammy, but the fact that there was no opportunity for airflow between the ring and finger. He figured that if you could create airflow, the ring would be much more comfortable. So he came up with a newly designed silicone ring to solve the airflow problem.
It Worked!
And that's what makes Groove Rings different… a LOT different.
An Unexpected Problem on Your Alaska Vacation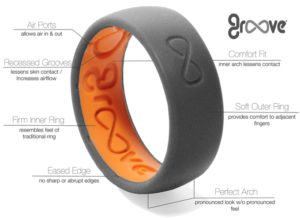 My job at this site is to help make your Alaska vacation an epic adventure. Unlike a casual misplacement of your ring around the house, if you loose your wedding ring on an outdoor adventure in Alaska, chances are you'll never see it again.  I also want to help you avoid some of the hazards of outdoor adventure. I share this story to try to convince you that this is an issue you want to consider as you prepare for your Alaska Vacation. Like me, you would have probably never thought about your wedding ring being a  problem on your trip. It caught me by surprise, and I don't want you to have any unexpected challenges.
Whether you are headed to Alaska for your honeymoon or a bucket list item late in life, I encourage you to consider a silicone ring for your trip. And of all the silicone rings on the market, I believe the Groove Ring sits at the top of the list for the best silicone ring for Alaska vacations.