Best Rain Gear For Alaska Vacations – 2019
Full Disclaimer: I may receive commissions when you click our links and make purchases. However, this does not impact my reviews and comparisons. 
Best Rain Gear for Alaska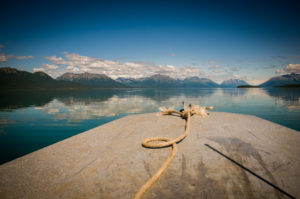 Here are a few reasons why I want you to have the best rain gear for Alaska when you go on your epic adventure.
The four million acre Lake Clark National Park and Preserve is one of the most beautiful places on the planet. Lake Clark itself covers an area about 42 miles long and 5 miles wide and is as deep as 860 feet in some places. The air taxi to the lake is one of the most beautiful flights you will ever find. It weaves through mountains, along glaciers and alongside some of the most spectacular Alaskan wildlife. I have seen moose, black bear, brown bear, and many other amazing animals. And many of those sightings were just on the flight over to the park. And when you first see the lake from the air, the azul blue waters can be breathtaking.
I've also seen some huge rains and heavy winds in the park that made me feel way out of my comfort zone. It can be a threatening intimidating piece of the map!
Up a Creek Without a Paddle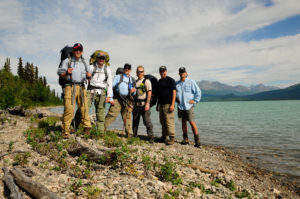 On my third trip out to Lake Clark, my group and I were making our way across the lake in a small aluminum boat. We were about halfway across the 5-mile wide lake when the rain came pouring down and the wind riled up the waves of the large body of water. Splashes from the lake gushed over the side of the boat and drenched us blowing painfully into our faces.
My rain jacket was buried deep under a pile of other gear and I began to feel the pain of exploring Alaska without the proper gear. It was freezing cold the first week of July that year (you never know about Alaskan weather.)
I was absolutely MISERABLE!
It took me some time to get my body back to normal to be able to enjoy the rest of the day. That could have been totally avoided if I had access to the right gear.
A good set of rain gear is in my top three highest priority items to pack on your upcoming Alaska vacation. It sits on the top three list with hiking boots and trekking poles. (see my hiking boot recommendation here and trekking poles here)
What I Look for in the Best Rain Gear for Alaska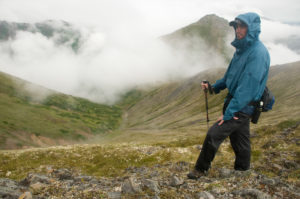 I'm not going to get too technical for the purposes of this article, but if you want way too much information about how rain wear is built, you can look here. My goal is to help the casual Alaska vacationer know what to pack while traveling to the "Last Frontier." The proper gear will help make your Alaska vacation an epic adventure. But, if you are not well-prepared, you will find yourself wishing you were back home cuddled up on the cozy sofa.
Cost vs. Functionality
As I always mention in my reviews, my goal is to help you have an epic adventure in Alaska without breaking the bank. I encourage you to find the happy balance between cost and functionality. You want gear with the features that will ensure you have a great adventure. However, I encourage you to not go overboard when it comes to outdoor gear. As you know if you've shopped the outfitters, you can spend as much as you want (and more) on outdoor gear. Try to get what you need and still stick to a reasonable budget, unless your goal is to become an expert adventure traveler.
Water-proof vs. Water-resistant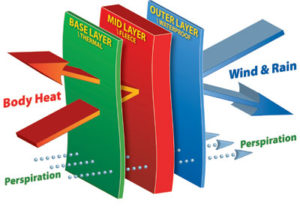 Water-proof in the rain gear world is defined as being made with material that is water-resistant enough to keep water out in driving rain or a torrential downpour. Water-resistant is defined as material that can keep light rain out for a short period.
There are two types of water-proof material, breathable and non-breathable. The non-breathable material is great if you want to keep the rain out while you are standing around or not exerting energy that makes you sweat. However, if you are hiking, fishing, or exerting energy, you will definitely want a breathable water-proof material.
Breathable material keeps outside moisture off the body, but it also transfers inside moisture out to let nature deal with it. It also prevents you from living in a sauna for your Alaskan adventure. I made the mistake on my first trip to the Bush to take water-proof non-breathable rain wear and I regretted that decision the entire 6 days in the back country (by the way, I was trying to save a few dollars.) It defeats the purpose to keep the water out from the outside, but still be drenched with moisture on the inside of the gear.
Of course, water-proof breathable material is the most expensive product, but well worth the extra cost.
Wind-proof vs. Wind-resistant
Just as water resistance can be proof or simply resistant, wind-proofing works the same way. Many companies rate the difference based on how the material performs in 60+ mile-per-hour wind.
Wind-proof material is also generally water-proof and vice-versa. One typically equals the other. You may find a jacket that is wind-proof, but only water-resistant. Ce careful to make sure your selection has both qualities. A wind-resistant jacket is usually a light-weight jacket designed only to offer minimal protection in mild conditions.
Laminate vs. Coating
One of two technologies are responsible for water-proof breathable material; laminate or coating. The best way to imagine laminate is to think of it as a thin layer of material glued to an underlying base. It's like wallpaper. like wallpaper. The coating works more like a layer of paint on the wall. Laminate tends to perform much more solidly than coating. However, laminate comes at a high cost, which we hope to avoid.
With all that Said…
Drumroll Please…
Our Suggestion for the Best Rain Gear for Alaska
Specifications
Waterproof: Yes, with 2.5 layer DryVent Shell
Windproof: Yes
Breathable: Yes, 750-800 g/m²/24 hours average
Great Cost ($99), Lightweight, Great for the Casual Hiker

Several Colors Available
Best Place to Shop for the Venture 2 by North Face
Why I Like It
North Face has technology for the casual to moderately serious outdoorsman.
The 2.5 layer DryVent technology is more than sufficient.
Zippers and seems are sealed for water-proof performance.
Packs nicely into itself for easy stow away.
What I Don't Like
It is heavier than some of it's counterparts
Some reviews list it as weak in hood design and zipper quality
Best Rain Gear for Alaska
Unfortunately, I can't turn back time on that cold wet day on Lake Clark. If I could I would have this rain gear, not only packed in my backpack, but under my arm waiting for the cold rain to start falling and the heavy winds to gust. That scenario will not happen again!
I heartily recommend for your upcoming Alaska vacation the North Face Venture 2 Men's and/or Women's Jacket and Half Zip Pants. This is an excellent balance between economy and performance. The 2.5 layer water-proof shell and DryVent breathable material will serve well to help make your Alaskan vacation an epic adventure.
Click Below to Purchase from Amazon