Best Trekking Poles for Alaska Vacations 2019
Full Disclaimer: I may receive commissions when you click our links and make purchases. However, this does not impact my reviews and comparisons. 
Best Trekking Poles for Alaska
(Note: This review of Best Trekking Poles for Alaska is written for the casual Alaskan vacationer. It is not intended for the rugged adventure traveler. My suggestion is designed to strike a balance between essential features of the product and cost-effectiveness for those who may or may not use the product after their Alaskan vacation.)
Great Planning Makes a Great Vacation
One thing I've learned over the years, particularly when it comes to the wildness of Alaska, is that great planning makes for a great vacation. Anticipating what gear will be required and shopping for the perfect choice prior to departing for your trip will save you a lot of money and ensure that you have what you need to make your vacation an epic adventure!
My goal in these product suggestions is to give you the information you need to make a great decision when it comes to preparing for your Alaska vacation.
Alaska on a Budget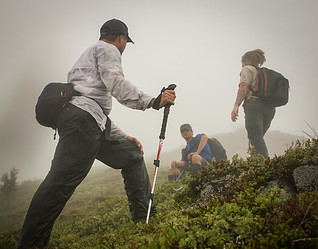 As I often mention in my articles, my number one goal is to see you strike a balance between a quality experience and a reasonable budget. Let's not kid ourselves, a trip to Alaska can get very expensive. However, there are decisions you can choose to make that gets the total cost of the trip down significantly. You can choose to get gear that is sufficient for your Alaska vacation, providing both reliability and functionality, without spending the thousands of extra dollars getting pro gear or gear suited for the long-term adventure traveler. This balance between price and function will be your guide to find the best trekking poles for Alaska.
Trekking Poles: What to Look For
I would not put trekking poles at the top of the priority list for the Alaska vacation, but if you are planning on outdoor activities, particularly hiking the spectacular Alaskan mountains or the glistening glaciers, I would definitely say a good set of poles is worth the money and real estate in your suitcase or backpack. Even the mildest Alaskan day hikes are more enjoyable with trekking poles.
The four main elements you will be looking at in choosing a trekking pole is weight, durability, grip and extendability.
Weight
The key to hiking is to get the lightest weight gear you can find that is still durable and within your budget. Weight plays a huge factor in hiking gear, whether you are enjoying a leisurely day hike or taking on a big one for a multi-day excursion. As a general rule, lighter weight yet stronger material costs more than the heavier counterpart. So the balance is between weight and budget. Look for potential trekking poles that have all the features you want and then come back and compare their weight with comparable sets at different price points. The materials used in the shaft effect weight the most, with the lightest and most expensive sets being made of carbon fiber while the less expensive sets are made of aluminum. For the purposes of an occasional hiker or one-time Alaskan hiker, aluminum is sufficient and more economical.
Durability
Most of the trekking poles on the market will have the durability you need if you are an average Alaskan visitor. Now, if you are planning on mountaineering in adventurous places for years to come, you want to pay more for a set of trekking poles that will last in more rugged conditions. However, if you are like most visitors to this site and are simply preparing to make your vacation go as smoothly as possible, the suggestion below is perfect for you.
Grip
The grip on a set of trekking poles is much more important than you might think. The three materials used in most trekking pole grips on the market are cork, foam and rubber. Cork and foam tend to absorb and wick away moisture more effectively and I would suggest either of those materials for your selection. I would avoid rubber grips that often fail to take care of sweat, odor and wetness. The angle and contour of the grip is also important in improving wrist fatigue and even heart rate.
Extendability
There are cheap trekking poles on the market that are a fixed length without the ability to extend and retract. I would encourage you to make extendability a high priority as you are searching for the right trekking poles. Ease of packing is important. You want to be able to make your poles as small as possible for your luggage or backpack.
Even more importantly, you are going to want to make length adjustments based on the steepness and direction of your hike. The other important factor in extendibility is the ease of adjustment and the effectiveness of the locking mechanism on your poles. There is nothing more frustrating when it comes to trekking poles than a poor locking mechanism. They generally slip as you are trying to focus on ascending toward that beautiful view from the top!
My Suggestion for Best Trekking Poles for Alaska Vacations
Drum Roll Please……
My pick for the Best Trekking Poles for Alaska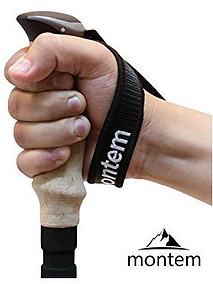 Specifications
Weight: 19 oz. per Pair (9.6 oz. each)
Shaft: Aluminum Construction
Grip: Ethylene-vinyl acetate (EVA) Foam
Type: Telescoping with Push Button Locks
Pros: Everything needed for the Casual Day Hiker at a reasonable price
Cons: Not suitable for rugged hikes or long-term use
I feel like the Montem Ultra Strong Trekking Poles are a fine balance between weight, durability, functionality and cost for the average Alaska vacationer who plans on doing one to several day hikes throughout Alaska.
Great Balance of Weight and Price
Aluminum is the alternative to the expensive carbon construction of the more expensive poles. For the purposes of the casual Alaskan vacationer, this is a great solution to help you save some money. The Montem Ultra Strong still weighs in at a very manageable 19 oz. per pair. Lighter weight reduces wrist and arm fatigue and helps with overall energy retention.
Moisture Wicking EVA Foam Grips
Moisture is one of the greatest enemies of the hiker. Chafing, blisters and poor gripping all have a negative impact on the hiker's experience. Ethylene-vinyl acetate foam is one of the 2 best solutions for a grip that wicks moisture. The Montem Ultra Strong also has a grip position that helps improve circulation and helps reduce heart rate. This makes the Montem a great low budget trekking pole for Alaska vacations.
Quick and Easy Extendability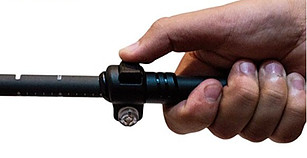 The Montem Ultra Strong trekking poles has an effective flick lock control to quickly adjust the length of the pole. There are 2 different extension points per pole and the flick lock allows you to make quick changes. This system seems to speed up the process as compared to the lock down system. The three segments also allow the poles to retract down to 24 inches. This makes for a very manageable and packable size for the suitcase or backpack.
My Recommendation for the Best Trekking Poles for Alaska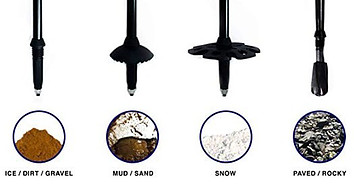 In addition to the features above, the Montem Ultra Strong comes with four interchangeable tips to cover the very strong carbide tip at the base of the poles. There is a tip ice/dirt/gravel, one for mud/sand, one for snow, and one for rocky terrain. We are excited to recommend to you the Montem Ultra Strong trekking poles as the best trekking poles for Alaska in 2018. We feel like these poles provide the balance you need to help make your Alaska vacation an epic adventure!