Groove Life Silicone Ring Review
Groove Ring – Silicone Ring of Choice
I started wearing a silicone ring about 5 years ago. The reason for my switch from traditional to silicone was three-fold.
I work in a very physical environnment at my furniture and home decor consignment store. We move furniture all day long. Throughout the day I was banging my ring all over the place. A couple of times I even cracked the glass on a piece of furniture with my wedding band.
Secondly, I live in central Alabama! You don't have to live in Alabama long to realize that it is HOT and HUMID! Heat and humidity lead to sweat and moisture. Moisture leads to clamminess, discomfort and itchiness. Just to relieve the discomfort I would often take my ring off for a few minutes to let my finger dry, Inevitably, I would leave the ring lying around on my desk or beside my bed and it would come up missing for days at a time.
And then about 5 years ago, I developed some type of rash every time I would wear my ring. I still don't know if that was an allergy to a metal or just a reaction to moisture, but it was super uncomfortable. I couldn't stop scratching it. The wedding ring celebrates the most beautiful relationship in life. The last thing you want is for it to be an irritation or danger. Sometimes I wouldn't even wear my ring because of these issues.
It was time to find an alternative!


Other Issues with Traditional Rings
The three struggles above do not even take into account the number one reason people switch from traditional rings to silicone rings: finger injury. There are two hazards with traditional rings. One is called Ring Avulsion, when the ring gets caught on some object and pulls the skin of the finger so hard that the upper and lower layers of the skin separate causing major pain and injury.
The other hazard occurs the ring gets caught on an object and jerks the joint of the finger out of place. This can also cause severe pain and take days to recover. This can even be so severe as to rip the finger off.
Groove Life Silicone Ring Review – The Solution to the Traditional Ring Problems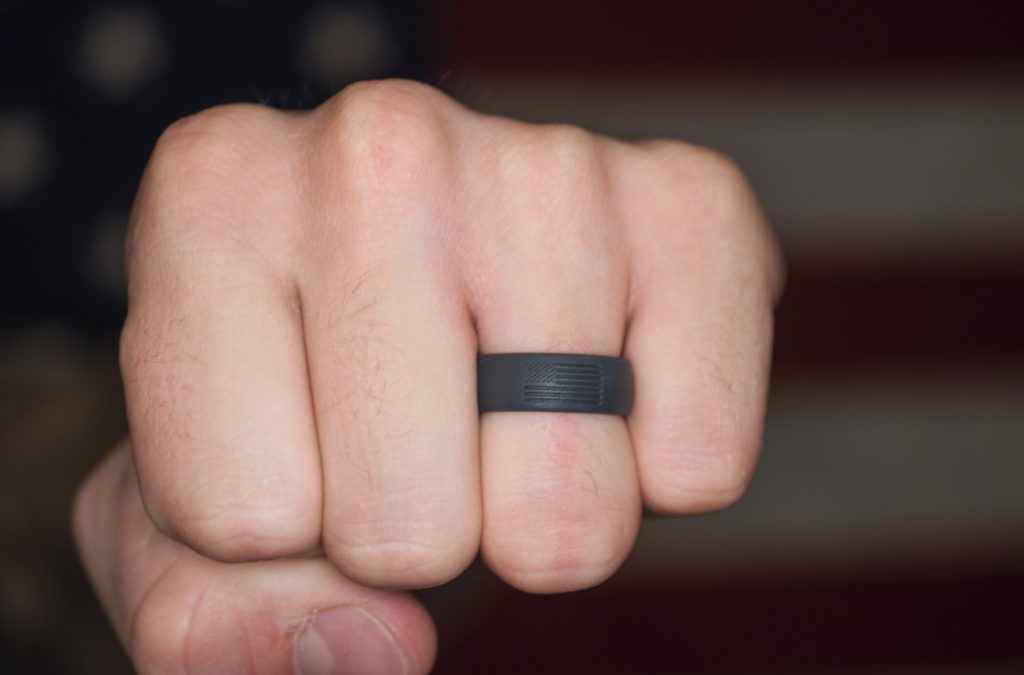 Silicone rings provide a solution to these problems of traditional wedding rings. The Groove ring is actually equipped with dual layers of silicone designed to break apart before your finger does!
The founder of the Groove Ring, Peter Goodwin, was an Alaska lodge owner and outdoor guide. He led bear hunts, fishing trips, Bush hikes and even snorkeling trips with sockeye salmon in the frigid waters of Alaska. Peter needed a ring that would stand up under those conditions and extreme activities. When he tried the rings that were on the market before Groove, he was disappointed in the discomfort he experienced while wearing these rings. There are 2 complaints about the early silicone rings.
Complaint #1: Moisture Leading to Clamminess and Itching
The early silicone rings had major problems with airflow between the ring and the finger. This led to moisture collection under the ring. Any kid who has spent too long in the swimming pool or bathtub knows what moisture exposure leads to. Clamminess, wrinkling and itching has been a problem with both traditional metal rings and silicone rings for a long time.
Groove Life has virtually alleviated this problem with the technology that gives Groove it's name! On the bottom side of Groove rings are airflow channels that lead to air ports along the side of the ring to let the moisture out. These two elements relieve 90% of the problem with moisture and clamminess.
Complaint #2: Thick Profile and Sharp Edges Leads to Discomfort
A second complaint with the early silicone rings was the profile of the ring. The early designs are thick and bulky. Sometimes they feel like the get in the way or the activity of the hands. Groove rings have a design that tapers on each side creating a much more natural feel to the ring and eliminating the bulkiness of some of the other rings on the market. As an ultra-active outdoorsman, Peter was adamant to create a ring that did not interfere with any of the activities of his profession. This comfortable design puts Groove a step above their competition in my humble opinion.
Groove Ring as a Fashion Statement
In addition to the functionality of the Groove Ring, Groove Life has become a fashion statement with the variety of styles and designs they offer. Peter and his crew never tire of coming up with new designs. You can support your favorite team, show your appreciation to law enforcement and emergency personell, sport the original Groove solid color designs or even wear a completely customizable version of the ring for a few extra dollars.
I regularly get comments and questions about my ring at work and when I am out and about. People love the look of the ring and I love how it feels.
My Best Recommendation for an Alternative Wedding Band
With all that said, I highly recommend the Groove Life Silicone Ring for and alternative to help solve the problems of the traditional wedding ring. The biggest advantage for me is that I can now actually wear a ring to honor my marriage without having to worry about injury, clamminess or the fear of losing the ring when I have to take it off for relief. Try it out! The customer servcie is out of this world, the warranty is over the top and you will love the culture of this amazing company! If not, I can almost guaranty you they will do whatever it takes to make you a happy customer!