Things to Do in Seward Alaska – Turn a Vacation into Adventure
I'll never forget my first wedding anniversary when we found so many things to do in Seward Alaska!
My wife and I spent our first summer together on a Youth Recreation camp in Wasilla, Alaska. As we were nearing our first anniversary, the camp director suggested that we take their RV and spend our weekend in Seward about 120 miles south of Anchorage. There were plenty of things to do in Seward. It is one of our favorite weekends together in almost 20 years of marriage.
What We Found
Even the drive from Anchorage to Seward was spectacular. We rode along the Turnagain Arm just west of Cook Inlet along the Seward Highway. By the time we were out of the city limits of Anchorage, we had already spotted Dall Sheep, Moose, a Procupine and some beautiful shorebirds.
We had a few moments to stop by Portage Glacier. In 2000, the glacier was much more visible from the road.  The glacier has retreated up the mountains now, but the short detour is worth the time to see the Begich, Boggs Visitor Center, which is operated by the Alaska Forest Service.
Driving west and then south, you will meander around the Turnagain Arm and make your way toward Seward. The views along Moose Pass and the Chugach National Forest are worth the drive. Don't miss your turn at Tern Lake where Highway 1 leads to Sterling and continuing on Highway 9 takes you to Seward.
There are many special events throughout the year so check the Seward Calendar of Events or the Schedule of Seward Festivals to see if you can catch one of the local activities. Don't miss one of Alaska's most exciting foot races, Mt. Marathon, if you happen to be in town around the 4th of July. It is hailed as the toughest 5K on the planet by Outside Magazine.
No matter what time of the summer you visit, you will find a good number of things to do in Seward, Alaska.
Things to Do in Seward Alaska
Fishing
You do not have to be a sports fisherman to enjoy fishing in Seward Alaska! It can be a lot of fun just watching the fisherman haul in their catch in the mid-afternoon. Just roam around the docks in Seward to see some great fish and see how the professional fishing guides live life in the summer months.
If you love to fish, Seward is a great place for you to experience some of Alaska's best fishing opportunities. You can charter a boat for between $200-300 per person for a half-day excursion. You can also enjoy a day shore fishing the Kenai Fjords with rental gear and an Alaska Fishing License. Save time by getting your license ahead of time at the Alaska Dept of Fish and Game. A 3-day non-resident license will cost you $35.
Hiking
Spectacular hiking is found all over Alaska, and it is no different in Seward. Below are 3 of Seward's favorite hikes.
The Exit Glacier Lower Trail is a very easy, flat 15-20 minute walk from the Exit Glacier visitor center operated by the National Park Service. This trail provides up-close access to the massive glacier. You can also see markers of where the glacier has receded over the past decades.

The Harding Icefield is a part of the Kenai Fjords National Park, which is one of the most spectacular day hikes I've ever experienced. It offers a bit more of a challenge that the Glacier trail, but it is well worth the effort. The trail rises 3,500 feet and is 4.2 miles one way. The only way out is back how you came, making it an in/out trail 8.4 miles round-trip. You're payoff for a hard day hike is breath taking views of the 700-square-mile Harding Icefield. This Icefield is the source of 38 named glaciers. No special gear is required in summer months, but this trail is best for in-shape hikers. There will be ice to walk on most of the year, so bring a good pair of hiking boots. Also, trekking poles can prove to be very helpful on the trail, especially over the icy sections.

Day hike the mountain that is home to the grueling Mt. Marathon Race that occurs on July 4th each year in Seward. The trail starts at the gate on Madison Avenue and takes the hiker 2.25 miles up the mountain. There are alternate routes so hikers can choose their experience. One trail leads to the famous "Turnaround Boulder" which is located at the 3,022 foot elevation of Race Point.
Kenai Fjords Water Tours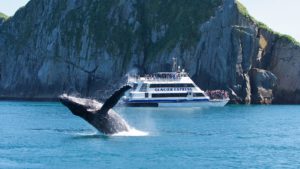 I never make a trip to Seward without a Kenai Fjords tour. It is one of the most exciting experiences you'll have when you visit Alaska. Puffins, Sea Lions, Whales, Sea Otters and other wildlife can be spotted from a tour of the Kenai Fjords and Resurrection Bay. It is absolutely breathtaking.
There are many options for a tour of the Bay, but I enjoy taking a cruise with a National Park Ranger. This takes place with the tours offered by Major Marine Tours. I highly recommend this Seward company. They offer several 3-5 hour tour options, which come complete with a wonderful meals. They also offer tours of Prince William Sound.
Food in Seward, Alaska
If you don't mind a wait, the Cookery is a highly rated seafood restaurant on 5th Avenue. At my last visit, we started there and were starving, so we chose not to wait on a table, however, it was highly recommended by both locals and visitors.
Chinook's Seafood on 4th Avenue is another highly rated restaurant, which is right at the harbor. This meal can be part of your early afternoon stroll as you watch the fishing tours return from their excursions.
If you would prefer something other than seafood, you can try the casual Gold Rush Alaskan Bistro. In addition, it's seafood offerings, Gold Rush serves up a variety of American dishes and sandwiches. Find Gold Rush on 4th Avenue.
There are many more wonderful restaurants to try in Seward. The hardest part is picking a few to try if your stay is short.
Lodging in Seward Alaska
There are a lot of great places to stay on your trip to Seward. I would recommend checking out this list of top options. My wife and I slept in the RV loaned to us by our friends at the camp and my other 3 visits to Seward were day trips. A visitor to Seward will find several houses and cabins which can be rented along the Seward highway north of town. Or if you prefer to plant yourself where the action is, there are several hotels, campgrounds and other lodging options in Seward proper.
My Favorite Stop on the Kenai Peninsula
Don't miss my favorite destination on the Kenai Peninsula. Schedule 1-3 days to explore Seward. You will find unique and fascinating things to do in Seward Alaska. I promise!