Things to Do in Valdez Alaska
Of all the wonderful restaurants to visit and great food to eat in Valdez, Alaska, I had to eat crow! Not literally of course, but boy did I make a mistake when consulting with a friend on things to do in Alaska! It was just a few months ago on an article I wrote right here on this site. This is the regretful quote just after the point where they were going to take the Richardson Highway from Glenallen to Valdez:  "I would suggest you shift your planned course to head west toward Anchorage." I had good intentions, I promise! Hower, I missed this one bad. I'm glad my friend chose to ignore my ingnorant advice. She would have missed one of the most beautiful drives I've seen on the Alaska road system. She would have also missed all the amazing things to do in Valdez, Alaska.
East to Glennallen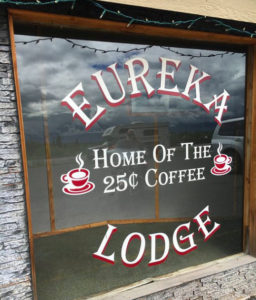 If you are headed East on the Glenn Highway from Anchorage the views of the Chugach Mountains are simply breathaking. The mountain vistas and long stretches of road provide a scenic wonderland on the 5-hour trek to Valdez and the Prince William Sound.
A must stop for lunch, dinner or even a quick snack is the Eureka Lodge and Restaurant in Glennallen. The frienldy ladies who work there will take good care of you, Alaskan Style! They were super friendlly and made us feel right at home. The Eureka Burger is the lunch to get, unless you want to go all out just to say you did. Then you want to get the $54 Peanut Butter and  Jelly Sandwich! One of our crew members asked what in the world is on a$54 PB&J and the kind waitress just looked at him with as much patience as she could muster and said, "What do you think is on the PEANUT BUTTER and JELLY SANDWICH?"
The $.25 coffee almost made up for the price of the sandwich (not really!) Other than the PB&J the prices were fair, the food was good and the service was pleasant. Folks say the pie is the prize, but we just weren't up for desert. Seeing as how it was late winter on our trip, of course there were snow-machiners flying through the parking lot!
South to Valdez
Once you pass through Eureka and Glennallen, and just past the famous Hub of Alaska (another important stop for refreshment and gas,) you turn right to head south toward Valdez. It's a good idea to fill up the tank at the Hub because the farther south you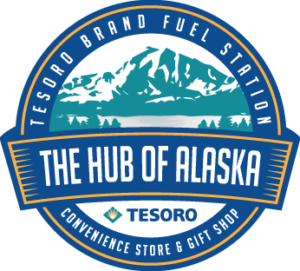 go, the more you'll pay for fuel.  Ironic, considering Valdez is the terminal point of the great Trans-Alaskan Pipeline, which stretches 800 miles from Prudhoe Bay in the north to Valdez in the south.
Two Hunred Million Barrels of oil dumps into Valdez every year! You probably remember the tragic Exxon Valdez oil spill of 1989 (if you are as old as I.) And listen, I don't know how to say this tactfully, but my buddy Peter says the bathroom at the Hub probably serves more people per square mile than any bathroom in America when they have to… well… you know… take care of business.
The Wrangell and St. Elias Mountain Ranges
Looking off to the east as you turn south on the Richardson Highway, you will get your first glimpse of the Wrangell and St. Elias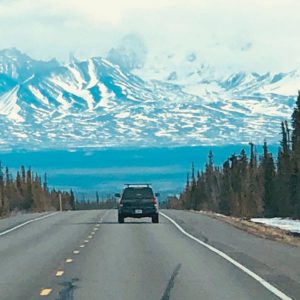 mountain ranges. The National Park that serves these awe-inspiring mountains is very appropriatly named the Wrangell-St. Elias National Park. Hmmm… Great job park service! All joking aside, it is a spectacular sight to behold and can be approached from the city of Copper Center.
The peak of the park is the gargantuan St. Elias mountain topping out at a mere 18,008 feet, the fourth tallest moutain in North America and second only to the "Great One," Denali in the U.S. And it is housed fittingly in a park that is equal (as the Park Service says) to the size of Yellowstone, Yosemite and… well, Switzerland combined!! At 13.2 million acres, it is the largest national park in the U.S. A stop at the visitor center would be warranted if you have the time to spare.
Headed south from there you'll drive another 105 miles to reach your destination of Valdez.
Driving Thompson's Pass Alaska
Although there's not a whole lot to do, there are some spectacular sights to see on your journey southward. The Richardson Highway winds through the valleys of the Chugach Mountain Range. Keep an eye out for some of Alaska's most impressive wildlife. Brown and black bear, huge moose and Bald Eagles can often be seen along the roadway. One of our folks saw a lynx cross the highway and another spotted a wolf in the distance. You never know what you will see in the vast wilderness.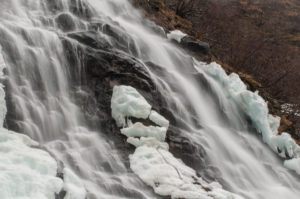 Seventy-five miles from Copper Center you will reach the pinnacle of your drive to Seward at Thompson's Pass. The pass is known to be the snowiest pass in Alaska. It gets 500 inches of snow per year, making Thompson's Pass one of the best places in the state to ride snow mobiles (or snow machines as they are known in Alaska.)
Also, this is one of the best places in the world to heli-ski. The top of the pass measures in at 2,805 feet above sea level. The Worthington Glacier is accessible from  Thompson's Pass and can be experienced up close with a short 2-mile hike or you can simply drive up a paved road to view the glacier from a viewing platform. You can even find a visitor center maintained by the Alaska Department of Natural Resources that is open during summer months. There are picnic tables and bathroom facilities there when the center is open.
The Gorgeous Town of Valdez, Alaska
The next 25 miles past Thompson's Pass is one of the most strikingly beautiful drives in the state of Alaska! Deep cuts along the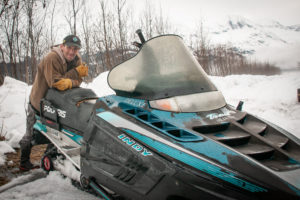 side of the road create spectacular waterfalls in the summer and ice structrues in the winter. Seriously, pictures can't do it justice.
You have to see with your own eyes to grasp the beauty! And the locals are a friendly bunch! You never know who you'll meet or what stories you'll hear in this rural area. I found this guy on the side of the road and we chatted until neither of us had anything else to say (which wasn't very long at all.)
As we drove into the city, signs of the oil industry became evident. The inlet was the home to some large structures in the distance.  Many of the locals make their living in these structures year-round. This was a good spot to stop and grab a photo of a different side of Alaskan life.
The gateway into the city was a welcomed sight after a long drive for my over-stimulated sense of place. As we were carried over the threshold of the city by our rented passenger van, we made our way to the Best Western Valdez Harbor Inn, one of just a handful of traditional hotels in the town of Valdez. It sat right on the harbor and was a beautiful setting surrounded by mountains on every side.
Ammenities and Things to Do in Valdez, Alaska
The best thing about visiting Valdez is that you are in one of the most seemingly remote villages of Alaska. But the road system supports all you'd need for an extended stay.  We shopped for food and supplies at Safeway, had a wonderful meal at No Name Pizzaria, and dined the night away at the fabulous Wheelhouse Restaurant overlooking the Prince William Sound right beside our hotel room at the Best Western.
You can find laundromats, healthcare, churches and more to make your stay as comfortable as possible. This gives you more freedom to explore one of the most untouched areas of North America.
My Recommendations for Valdez
Summertime in Valdez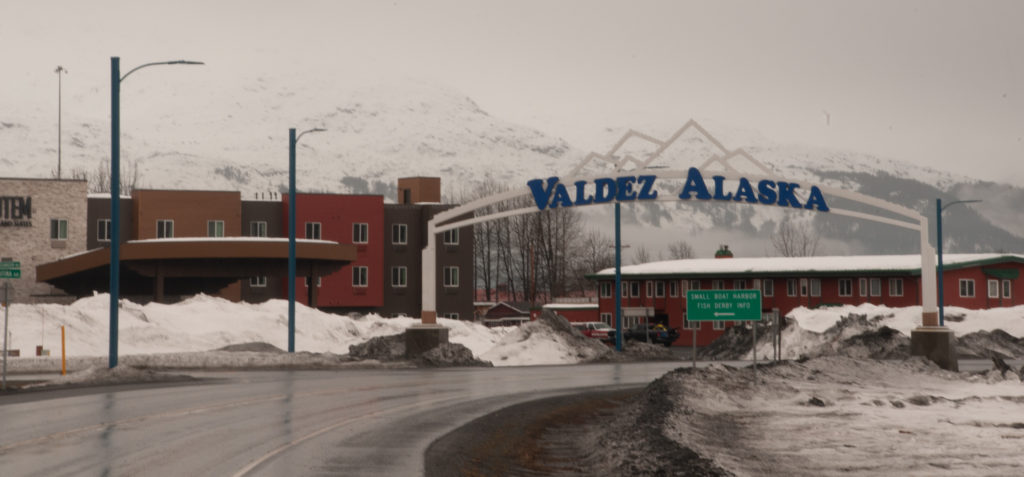 In the wintertime I would recommend renting snow mobiles and taking on the mountains of the Chugach range. We spent two days on the snow and although I was working and didn't get as much time as I'd have liked on the machine, we had a blast.
It takes some practice and for safety sake, I would highly recommend a guide. There's none better than Bill
Leider. Bill is all the way up in Palmer, but he's always more than happy to come down. He'll guide you on a once-in-a-lifetime snow mobile adventure in Valdez. His equipment is top-of-the-line and his support and encouragement helped me focus on the scenery. Otherwise, I would have had to dig my 450-pound snow machine out of a 4-foot-deep hole! Bill was such a pleasure! You can find him at OTG Rentals in Palmer or reach him at (907) 982-7522.
Wintertime in Valdez
For the more adventurous winter travellers, heli-skiing and snowboarding is world-class in Valdez. There are several operations to help you with this adventure. You can find a detailed list here.
In the summertime, get ready for amazing glacier and wildlife tours on one of Valez' marine tour operators. You will have an opportunity to coast alongside huge glaciers, and while you are viewing bald eagles, sea otters, sea lions, harbor seals, puffins, and maybe even a whale or two! If fishing is your thing, Valdez is one of the best in Alaska. Halibut, Rock Fish, Dolly Varden and Salmon of all sorts await your hook, line and sinker! Check out this site for marine tours and fishing options from 2-hours to a full day in length.
Conclusion
After a dozen trips over the course of 20+  years over most of the frequented portions of Alaska, I can say that Valdez was in my top 5 destinations. I got the full experiene of Alaskan scenery, wildlife and fun! If you are planning a vacation to Alaska, don't hesitate to make this a stop on your itinerary. Weather is a huge issue in Valdez due to the large amounts of annual snowfall. Just do your research, be wise in your decisions, and dive into an amazing experience. There are an abundance of things to do in Valdez, Alaska.
If you have any questions regarding a visit to Valdez, just comment in the section below or email me and I will be happy to help you in any way I can. Also, I'd love to hear your story of places you visited and people you met on your vacation to Alaska. Share it below!