Welcome to "Things to Do in Alaska!"
Here you will find your way around the largest state by land mass in the entire United States. We are thrilled to offer you our ideas on things to do in Alaska!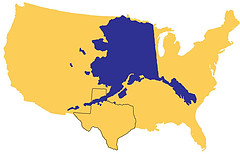 Everyone says Texas is big at 265,580 square miles. That is a big state for sure. But, compare that to Alaska's 663,367 square miles and this is what you get…
There are a few things to do in this mass of land and I'm here to help you find the best experiences for your coming visit to Alaska. I will work hard to make your planning as hassle free as possible.
My Alaska Story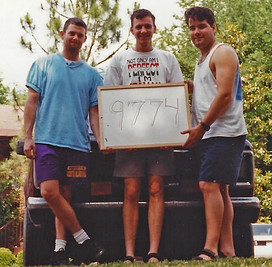 I never imagined traveling to the "Last Frontier" until the fall of 1995. My best friend in college insisted that I take a road trip with him the following summer. He wouldn't take "NO" for an answer! Reluctantly I agreed to ride with him along the Alaska Highway without realizing that we'd be driving over 9,700 miles during the course of about 10 days (as much as I hate to admit it, that's me over there in the middle.)
I pretty much went kicking and screaming all the way to the Yukon Territory until we hit the dead end at Haines Junction and was facing Mt. Martha Black straight ahead towering into the clouds. About an hour earlier I had spotted the behemoth shining in the distant like a small diamond on the finger of a newly engaged young lady. "We finally made it to the mountains," I thought as my disappointment lingered.
My discouragement turned to sheer awe as the little diamond continued to grow as we drove westward. By the time we hit the turning point northward and began to coast along Lake Kluane, my visual sense were overloaded with the strength of the mountains to our left and the vastness of the water to our right. I was hooked.
As we crossed the Alaskan border, I could not stop staring at all that Alaska had to offer. I never knew that anything could be so big and wild. My life changed and I committed to help others have that experience as much as I possibly could for the rest of my life.
This Is the Home of That Dream
The purpose of Things to Do in Alaska is to further the dream of sharing Alaska with as many people as I possibly can. Since that pivot point in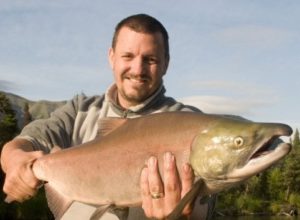 1996, I have returned seven times and traveled almost the entire road system and explored the Bush with gear on my back and Red Salmon on the end of my line. I have hiked and swam, driven and flown. I have slept in hotels, campgrounds and in the virtually untouched wilderness. I have listened to the stories of the locals and shared life-changing experiences with the tourists. I have been in awe of wildlife, wildflowers and wilderness vistas. I encourage you to make the absolute most of every minute of every long summer day in the most beautiful place on the planet.
In 2013 I wrote a book about some of my journeys and in it I described it this way…
"I am who I am because of a place on the map that opened my heart up to hear. The place did not make me, it simply cracked me wide open so the Maker could shake me and wake me up to the reality of who I am… and more importantly, Who He is."
For me it was a spiritual journey, but no matter what it is to you, I hope you go. Live. Rest. Breathe!
Why Not?
Kevin E Beasley
https://thingstodoinalaska.us